DEL-42 Emergency Culvert
Delaware County, Ohio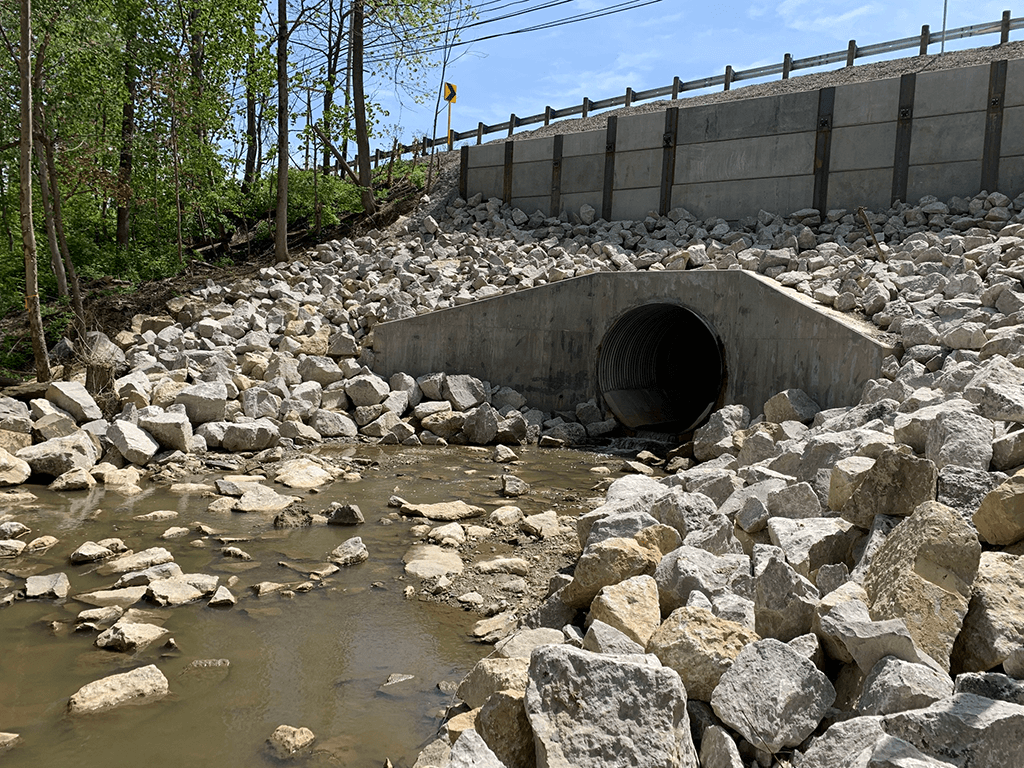 Project:
ODOT District 6 reached out to 2LMN discuss assistance with preparing plans for an emergency culvert replacement at the DEL-42.9.60 bridge location. A large sinkhole had recently developed at the existing culvert location due to recent heavy rains which forced the District to close SR 42. In the essence of time, ODOT felt it would be prudent to do a modification to 2LMN's contract on the DEL-23/42-11.71/9.60 project in order to quickly have emergency repair plans prepared for the replacement culvert at SR 42.
Between June of 2020 and December of 2020, when SR 42 was re-opened to traffic, 2LMN worked closely with District 6 hydraulic and geotechnical engineers to decide on a plan of action and develop construction plans. 2LMN prepared plans based on ODOT's hydraulic analysis for a replacement 120" CMP pipe with a paved invert and designed solider pile and lagging walls for the inlet and outlet of the culvert based on the Geotechnical information from ODOT. In addition, we designed a full height headwall at the outlet of the culvert to minimize its overall length and alleviate the need for additional right-of-way acquisition.
Adding to the complexity of this project was the need for the Greenwood Lake Dam to be decommissioned as part of this project. Therefore, 2LMN provided survey services at various times to record the removal elevations of the stacked stone half-moon riser at the inlet of the dam as the water elevation of the lake was allowed to slowly dissipate. At the close of the project, 2LMN provided final as built survey elevations to serve as part of the dam decommission records for ODNR.
Estimated Construction Cost:
N/A
Services Provided:
Culvert Design, Drainage, Hydraulics, Survey